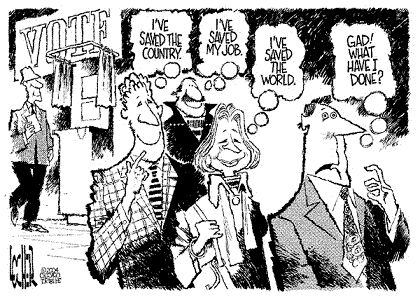 In a democracy we always say, majority rules. But, what exactly is a majority?
The simplest type of voting involves only two choices. With two choices, the most common way of deciding is majority rule, that is, the candidate with more than 50% of the vote wins. While this rule is taken for granted, it is important to check three properties:
1. Every vote has the same weight.

2. There is symmetry between the candidates. If all votes were reversed, the loser would become the winner.

3. If a vote for the loser were changed to a vote for the winner, the outcome of the election will not be changed.
Of course, in a democracy, there are many variations of this majority rule. A Constitutional Amendment can only be passed if it is approved by 2/3 of Congress and 3/4 of the states. A jury can only convict on criminal charges if there is 100% agreement.
Voting with more than two choices is much more complex. Sometimes, more often than not, no one gets a majority. Mo gets 35% of the votes, Larry gets 33% of the votes and Curly gets 32% of the votes. Mo cleary has the most votes, but not a majority. He has what is known as a plurality. These votes are very close. If Larry had decided to drop out and all his supporters decided to vote for Curly, Curly would win. Problems are definitely going to arise in this system. Studying this, makes it clear as to why some of our presidential hopefuls are dropping out early and giving their support to others.
In the mathematics of voting, we study different ways of holding an election, using preference schedules. We hold elections using run-offs of the top two candidates, sequential run-offs (similar to American Idol), Borda Counts (similar to figuring out GPAs) and pairwise comparisons. Holding the same election each way can give different results.
One of the things we always want is fairness. Judging fairness is subjective but mathematicians and political scientists have come up with four basic fairness criteria that must be met by a fair voting system.
Criterion 1: If a candidate recieves a majority of the first-place votes, that candidate should be the winner.
Criterion 2: If a candidate is favored over every other candidate in pairwise races, that candidate should be declared the winner.
Criterion 3: If a candidate is declared a winner and a second election is held which ranks the candidate higher, that candidate will still be the winner.
Criterion 4: If a candidate is declared a winner and a second election is held in which one of the losing candidates drops out, then that candidate should still be the winner.
In 1973 Kenneth Arrow received the Nobel Prize in Economics for his mathematical analysis of voting systems that led him to discover that no voting system satisfies all four fairness criteria.
I've only touched on this topic here, but it is one that I enjoy teaching. Delving further into it, students can appreciate how the electoral system we have now was developed. It brings real life applications of mathematics into my student's lives. It shows them that there is more to mathematics than the quadratic formula. There is a strong correlation to what they are learning in their government and in their math classes. For my weaker students, it is a way to practice arithmetic and calculator skills in an interesting manner. Kids who can't do the basics, are still drilling their basics (percents, fractions, decimals) and are not being treated like babies.
Source: Using and Understanding Mathematics by Jeffrey Bennett and William Briggs.